Introducing "The Ultimate Fighter Heavyweights": Roy Nelson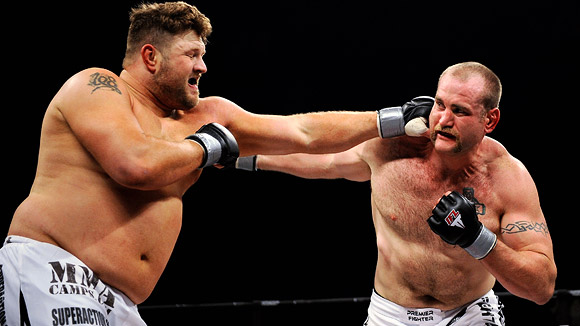 You already recognize some of names and faces from the upcoming season of "The Ultimate Fighter," but there's a lot you probably still don't know about this group of 16 heavyweight warriors. Each weekday between now and the Sept. 16 premiere of "The Ultimate Fighter Heavyweights," FIGHT! will introduce two cast members leading up to the introduction of our TUF bloggers.
Roy Nelson
Age: 33
Height: 6'1"
Weight: 265 lbs
Hometown: Las Vegas, Nev.
Trains: Las Vegas, Nev. – Team Big Country
MMA record: 14-4-0
Roy "Big Country" Nelson wants you to take one look at him and underestimate him because of his physique. It makes it all the more sweet for him when the referee raises his arm at the end of the bout.
Born and raised in Las Vegas, Nelson has always been a gifted athlete. He wrestled and played football and baseball at Cimarron Memorial High School before graduating in 1994. He became a martial arts fan after seeing "The Karate Kid" at a young age and began training in karate and kung fu. He started watching the Ultimate Fighting Championship in 1994 and in 2000, began training in jiu-jitsu with John Lewis in Las Vegas.
Four years later, he made the transition from trainer to fighter, and made his pro debut. With a devastating mixture of striking, ground and pound, and submission skills, he has compiled a 14-4 record and hold the now-defunct International Fight League's heavyweight title. "Big Country" has two recent losses to notable mixed martial arts heavyweights including a KO to former UFC champ Andrei Arlovski last October and lost a three-round decision to Jeff Monson in March.
Below is the vid of Nelson's KO win over Brad Imes to win the IFL belt along with his official TUF promo video.


Learn more about the cast of "The Ultimate Fighter Heavyweights."