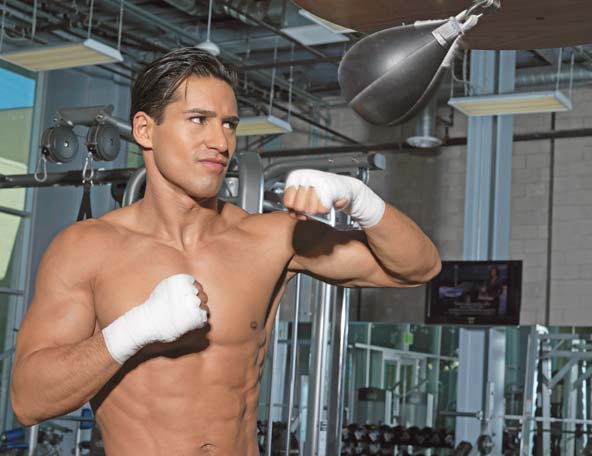 I got Mario Lopez on the phone for a few minutes this morning on a totally unrelated matter but took advantage of my opportunity to talk to him about his work for EliteXC and his boxing.
FIGHT! Magazine: You did some cageside reporting for [mixed martial arts promotion] EliteXC, is that something that you'd be interested in doing again?
Mario Lopez: I'm a big fight fan. I try to be as diverse as possible, I grew up boxing and wrestling and I do more stuff for HBO, I worked the Hatton vs. Pacquiao fight, I did the international feed and I like MMA as well. The problem is that I was working in Canada at the time and it was killin' me to come back and forth but hopefully that's something I can do more of in the future.
FM: I just watched video of your smoker from a couple years back at Wild Card [boxing gym in Los Angeles]. Are you still training with Freddie Roach?
ML: Where'd you see that at?
FM: The power of Google, man.
ML: How'd I look that night?
FM: You were more of a slugger than I was expecting, you kind of wrecked that dude with overhand rights.
ML: I'd like to think that I've improved since then. [laughs] I used to think that was kind of underground stuff but now that you can see it online I hope my bosses don't find out. [laughs]
FM: Did you get much pushback from management or people you were working for who were afraid you'd end up looking like a Hispanic Mickey Rourke?
ML: I didn't really tell anybody. They know I liked to box but they didn't know I liked to get in there and spar and compete in fights. [The smoker] was one of those low-key things. I hurt my hand, actually, as we speak, sparring.
FM: Is that weird, the dichotomy of being the middle American housewife's heartthrob and then mixing it up in the gym?
ML: People don't expect it and the last thing [boxers] want to do is lose to some kid, right, from Hollywood. I've earned everyone's respect there and I've been going there for years now. I work with all the guys, all the pros, and I think I'm a fighter at heart. I like to mix it up, it's very therapeutic for me. Some guys like to play softball, some guys play in a basketball league, I like to fight.