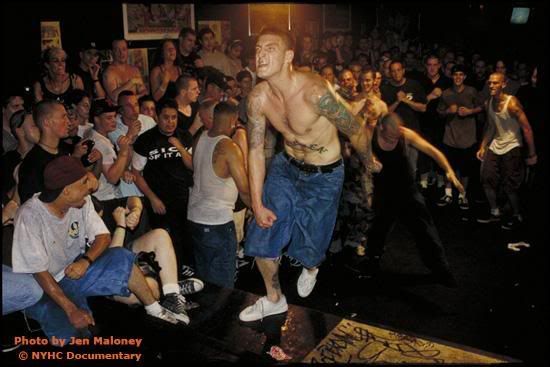 Freddy Cricien has been droppin' many suckas since the late 80's, first with his hardcore band Madball and and now, the 33-year-old vocalist is applying his mic skills to his hip-hop solo project Catholic Guilt.
The collection will highlight the Brooklynite's cutthroat wordplay, as well as collaborations from Rancid, Vinnie Paz of Jedi Mind Tricks and Travis McCoy of the Gym Class Heroes. FIGHT! Mag took a minute to chop it up with Cricien about MMA, Vitor Belfort, and rappers who talk too much.
FIGHT!: Was there a specific fight or moment that got you hooked on the sport?
Freddy Cricien: Oh, there were many. When Royce Gracie first came into the scene, I was impressed because he was such a small guy and was taking out all of these monsters. That's sorta what drew my attention to the jiu-jitsu and I sorta followed that up. I went to Brazil with my hardcore band, Madball, and I learned a little bit more history about Brazilian jiu-jitsu and the whole family. I was always a fan of Boxing, just classic boxing, and [if] you incorporate that with jiu-jitsu and some nice Thai kicking, it's a good thing (laughs). I enjoy it very much. But over the years, I watched different guys come into the game and following it up to recent. I remember when Vitor Belfort first came in. He was nice with his hands.
FIGHT!: Think Belfort will defeat Anderson Silva in January?
Freddy Cricien: Aw man, that's a tough one. Vitor is a little older nowadays, but he's still got that power. Anderson Silva is a beast. That [fight] is gonna be pretty ill.
FIGHT!: What would you rather watch? MMA or Boxing?
Freddy Cricien: That's an even tougher question! You topped the last question! It's hard because I love classic boxing and when it's a good boxing match, it's great. But I have to say, these days, I've become more excited watching MMA than Boxing and I hate to admit it. It's more possibilities. It's not just hands. A lot of these guys are great athletes. There's a lot of moving. And Boxing, unless it's the welterweight division, it's become a little boring.
FIGHT!: You learned how to box too, right?
Freddy Cricien: Yeah. I did a little bit of kickboxing several years back, but I started out boxing. Usually it was with a friend who was real experienced, just sorta showing me the basic movements. There were moments of my life where I got deeper and deeper into it. It's hard because doing music, you're constantly traveling, touring and moving around, so it's hard to get something like that [going]. So you train for a bunch of months and it all goes down the drain, and you have to get back to business, ya know?
FIGHT!: Are you looking to get back into it?
Freddy Cricien: Yeah. I've been out of shape, I haven't boxed for a while and I haven't trained in a while, so I'm looking to get back into shape. Especially with my new possibilities with my new hip-hop project, I gotta be in shape, man. [There's] a lot of youngsters in the game and I gotta be able to keep on pace with everybody.
FIGHT!: Gabe Saporta from Cobra Starship trains Muy Thai at WAT Gym in Chinatown. You two should be sparring partners.
Freddy Cricien: Yeah. I haven't sparred in a while, but I'd love to get into it. The thing is I was always getting up to that level and starting to spar a little, [but] then I'd have to tour or [I got] sidetracked with something. But yeah, I'd like to definitely get into shape where I'd be sparring again or compete on some level. I enjoy it.
FIGHT!: Like compete in an amateur bout?
Freddy Cricien: Possibly. I'm not anywhere near that shape, but it's something that always lingered in the back of my mind if I could get back into shape and dedicate enough time.
FIGHT!: Should we tell Vitor Belfort to look out?
Freddy Cricien: Yeah! You never know (laughs). I think he is a little more advanced than me, but I got a puncher's chance as well. I got a pretty good solid right, so he might have to be careful with that one because if I throw a haymaker and catch it, I could knock anybody out.
FIGHT!: You're doing a hip-hop side project and rappers always beef with one another. If you had to beef with any rapper, who would it be?
Freddy Cricien: That whole era with Mase and all them horrible, shiny things that came through hip-hop in the 90's. But it's sorta bully-ish for me to beef with those kind of dudes because I know they're easy prey.
FIGHT!: Seriously? Out of all the rappers, the guy you pick is Mase, who is now a preacher?
Freddy Cricien: (Laughs) I can't beat up a preacher. That's wrong. There's probably a few people that bug me … Kanye West, I'd like to punch him in the face. Then again, that's another bully thing because I know that's easy. It's like a given. I think he is a musical talent, but I think his attitude completely sucks. I hate his personality – his whole style as far as his demeanor. I'm not feeling that.
Catholic Guilt is out now.