Could The Ultimate Fighter Produce a Top-Ten Heavyweight?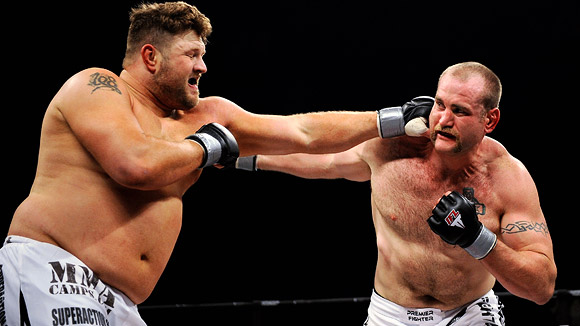 The upcoming season of The Ultimate Fighter is going to be one of the most prospect rich installments the Zuffa machine has ever produced.
With the UFC getting ready to promote a future "black-on-black crime" ("Rampage" Jackson's own words) showdown between coaches and former light heavyweight champions Rashad Evans and Quinton "Rampage" Jackson, the theme of the tenth season is going to focus entirely on heavyweight fighters.
Like previous seasons, there are some big name mixed martial artists moving into the TUF House such as YouTube Superstar Kimbo Slice, former Tampa Bay Buccaneer Marcus Jones and former New York Giant Matt Mitrione. There are also some legit threats that have danced in the big show before including Scott Junk and Wes Sims.
But perhaps the most startling revelation is the addition of Roy Nelson and his ultra bodacious stomach. In fact, Nelson, the last IFL Heavyweight Champion, is the only fighter entering the house with the distinction of both fighting former UFC titleholder Andrei "The Pitbull" Arlovksi and having been ranked in the top ten at one time or another.
Clearly, "Big Country" is the odds on favorite to bring home the TUF trophy and the six-figure contract. But one has to wonder if this could be the first season in history where a winner instantly becomes a top ten contender.
Sure, there have been several mixed martial artists like Forrest Griffin, Rashad Evans, Kenny Florian and Diego Sanchez who improved their skill set over time and earned placement on most people's top ten lists. Earning top ten status after becoming victorious at the finale, however, is unheard of.
Could this be the season to change that ideology? Maybe.
As of now, it's already established that Nelson has the highest ranking of any heavyweight present on the show. But the fact is one can safely rank 14 mixed martial artists outside the house ahead of Nelson. Those men include (and in no particular order): Fedor Emelianenko, Aleksander Emelianenko, Josh Barnett, Andrei Arlovski, Brett Rogers, Alistair Overeem, Jeff Monson, Brock Lesnar, Randy Couture, Frank Mir, Minatoro Nogeuira, Shane Carwin, Cain Velasquez and Ben Rothwell. Then there are fighters such as Gilbert Yvel, Cheick Kongo, Junior Dos Santos, Fabricio Werdum and Mirko Cro Cop who are on the bubble.
At worst, Roy Nelson just makes the Top 20. Since finalists need three straight victories in six weeks to make it to the grandiose TUF Finale, "Big Country" could probably move up in rank if he demolishes the competition. Then again, if someone else were to win or demolish Roy Nelson, then the UFC has a dangerous new star on their hands.
While the winner, whoever he may be, won't make any publication or website's overall consensus top ten list, chances are they'll be a top ten ranked UFC heavyweight contender and might be a few fights away before getting a title shot.